It's a Wireless Microphone, Receiver and Walkie Talkie
a long distance, ideal for Youtubers, Vloggers and film making, broadcast interview, business presentations and travel guides.

One or two E1 (Transmitter) can be connected
with an unlimited E1s as Receivers.
All E1 can convert into walkie-talkie with a simple touch.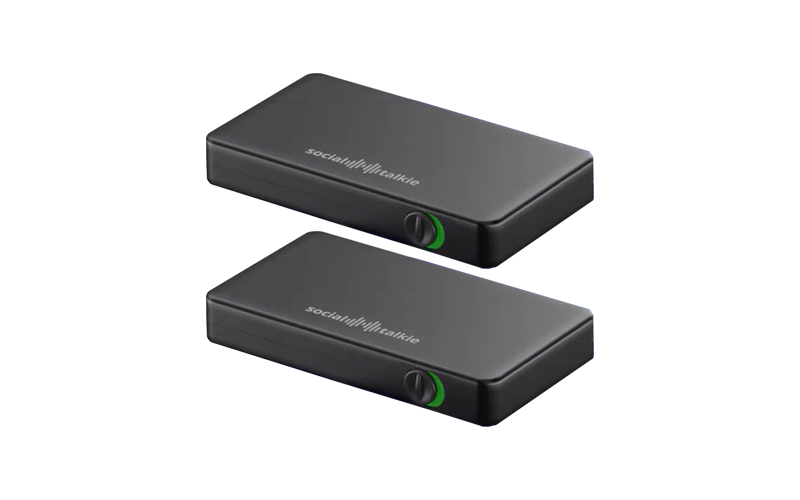 1 Set of E1 consisted of 2 units,
one as a transmitter
and one as a receiver.  Both can easily convert to walkie-talkie for two-way communication.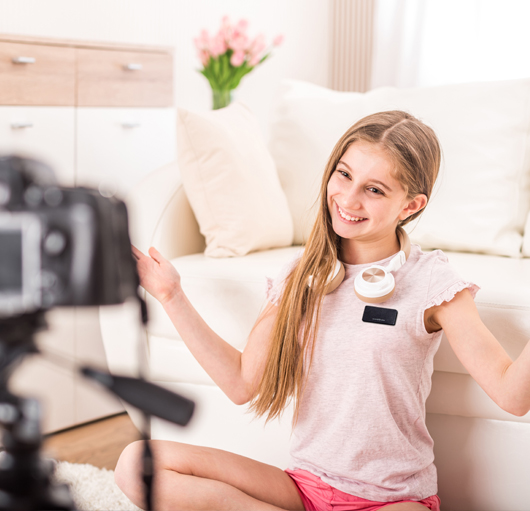 Magnet-on or Clip-on
Transmitter
It has a built-in mic of great quality and sensitivity, and is light enough to attach on your shirts using the magnet plate or clip, or you can use the included external lavalier microphone.
You may not realize you are wearing it.
SocialTalkie E1provides a perfect audio solution for recording in a long distance that is ideal for Youtubers, Vloggers and Film makers for many uses such as broadcast interviews, business presentations and travel guides.

Frequency hopping (50 hops/channel) system operates on the interference-free 900 MHz
and automatically hops to free channels to avoid static noise and audio dropouts.*
* Frequency hopping only works on Walkie Talkie mode
SocialTalkie E1 comes with ready-to-use following accessories in the package.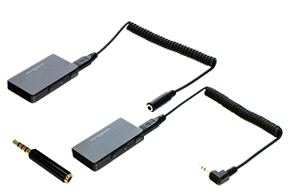 Connection Cables & Adapter
* Microphone Cable: It connects to the micro USB port on Social Talkie to connect with External Mic included in the package or any 3rd party lavalier with 3.5mm jack.
* Camera Cable: It connects Socical Talkie to your camera's 3.5mm Microphone Port(TRS).
* TRS to TRRS adaptor: It connects to TRRS type  Microphone Port.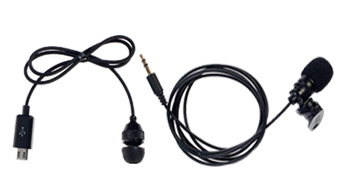 External Mic (lavalier) & Earpiece 
* External Mike: External Mic is used to enhance voice sensitivity and recording quality and is connected to Social Talkie through the Microphone Connection Cable.
It can also be connected to your camera directly if the camera has 3.5mm Microphone port (TRS).
* Earpiece: Connect Earpiece to the micro USB port on Social Talkie to hear voices through transmitter.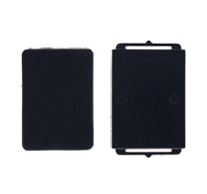 Magnetic Attachment
It constists of bracket and board.  It is made of Neodymium for stronger magnetic attachment. It can be used between fabric of your shirts or sweater providing more compact and cleaner look.
It can also be attached to any surface with magnet on.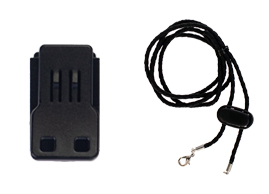 Clip & Lanyard
* Clip: This Clip provides convenient ways to wear Social Talkie and it is a great aid to keept it close to you while it is in use.   It can be mounted on the camera cold shoe mount when you use Rx mode to record voice while shooting video with your camera.  And use the clip to attach Social Talkie on your shirt when you use Tx mode to transmit your voice signals or using it in Walkie Talkie mode.
* Lanyard: Connect the Lanyard on the Clip and wear it around your neck like necklace.
Signup for Exclusive Deals